Fit Girl Fresh Weekend doesn't owe me a thing!!! ????You hear me?!? Not a one thang..my ENTIRE summer has been made! First and foremost, I have to publicly thank my bestie/sister, Carlyse, who has been rocking with me since the 5th grade. I expressed to Lyse how much I wanted to go to this event to meet my mentors (in my head) Zakia, Mia Ray, and Myleik. According to Carlyse, to ensure that I didn't back out (because y'all know I'm an introvert) she sent me the money for the VIP package IMMEDIATELY as an early bday gift (Virgo season is approaching). I'm talking about having the money in my account before I could even finish telling her the details of the event.
I was in utter shock and disbelief because the package was a pretty penny, honey. I thank God for working through Lyse. I sincerely appreciate this as a bday gift and an investment into my career as a blogger and content creator. Y'all go support my bestie and her business by getting the beauty accessory you didn't know you needed until now.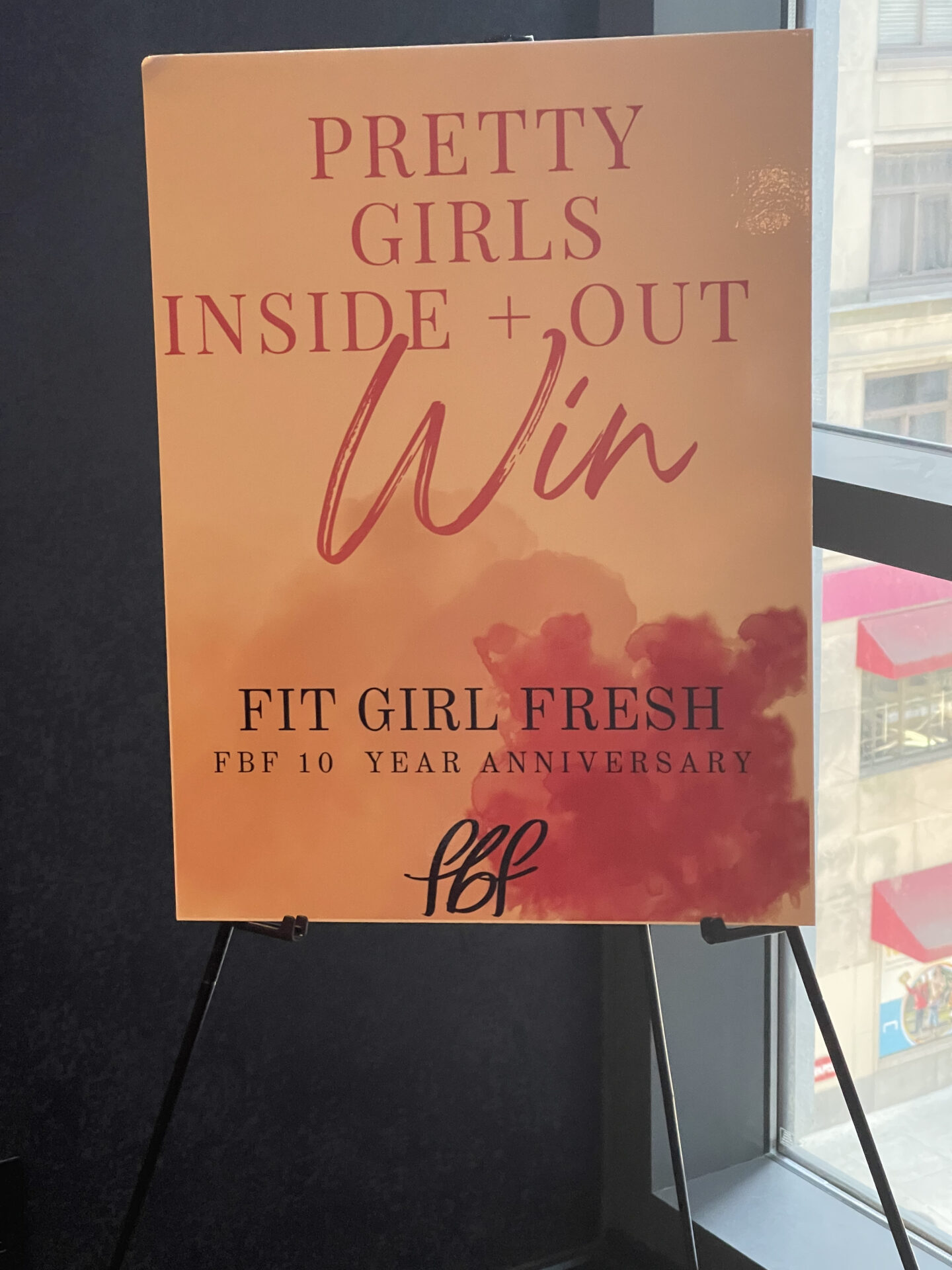 All right y'all, let's get into the festivities! Fit Girl Fresh / FBF Body 10th Anniversary Weekend took place on August 12th – 14th at Philly's newest, premiere hotel, W Philadelphia.
The Squad Leader Weekend VIP Pass included the following:
Friday: 10-Year Anniversary Cocktail Party and Fire Side Chat with Brandee Evans aka Mercedes (iykyk)
Saturday: Philly Fit Party 9am – 10am SWEAT with Dawn Archer and Vivalaveese
School of Life Workshop: 12:30pm-3pm Moderated By Zakia Blain
Snatched Squad Soiree: 6pm to 10pm
Sunday: Farewell Pool Party Hosted By The Snatched Squad 1pm-3pm
Now, if there is one thing I love to do besides eating good food, it's getting dressed. So when I saw the Fit Girl Fresh Weekend Dress Code, I immediately began searching for looks. A few outfits came days before the event because I couldn't decide. Despite the pending anxiety of 1. if they'll fit and 2. if they'll be giving, I made it and looks did I serve! Since I live in Philadelphia and it wasn't in my budget to book a room, the theme for #FGFWeekend festivities for me, was "Change Clothes and Go!"
So how did I do with my looks, y'all? Was I giving or was I GIVINNGG?!? lol
Fit Girl Fresh Weekend Dress Code
VIP Friday: Black Cocktail Attire W/FBF Pink
Philly Fit Party: FBF Body ONLY
School Of Life Brunch: Colorful Brunch Attire
Snatched Soiree: White Cocktail Attire W/FBF Pink
VIP Pool Party: Colorful Swimwear NO BLACK
Two days before the event we received an email with check-in procedures and protocol for COVID/Monkey Pox precautions. Check-in for VIP Weekend pass holders was on Friday 3pm-5pm. I took a mental note to be there no later than 4:45pm and be dressed for the cocktail party. As I began to scroll the email for further reading, I noticed it stated,
"You're health and safety is our priority, there will be onsite COVID testing at check-in. If you test positive for COVID unfortunately you will not be able to attend."
My immediate thought was, "Oh no. I better not have COVID AGAIN lol. I began to pray and wonder, "OMG, what if I have it and I'm asymptomatic?" Girl, my mind was racing. So I just quietly rebuked those thoughts in the name of Jesus. However, they came back as I walked to the 5th floor with compliments of "Come on dress!", "Come on shoes!", "Cute dress!" lol You know how we do. I was like Lawd this would be a big embarrassment if my test came back positive and I had to leave. For a minute I thought my test was positive. I saw a faint line Under the C and I pulled my phone out so fast and went straight to Google to see if I would be doing the walk of shame, but Thank God, that line under the C meant the test was working (wipes sweat from brow). After seeing that line I was like I'm going to wait the full 15 minutes to ensure I don't have this thing. The ladies had to ask for my test and tell me, "If you don't see it by now, you're good." In my head I said, thank you Jesus because a few hours prior 1 of the VIP holders emailed us that she had 2 tickets because her and her daughter had COVID. I felt so sad for them.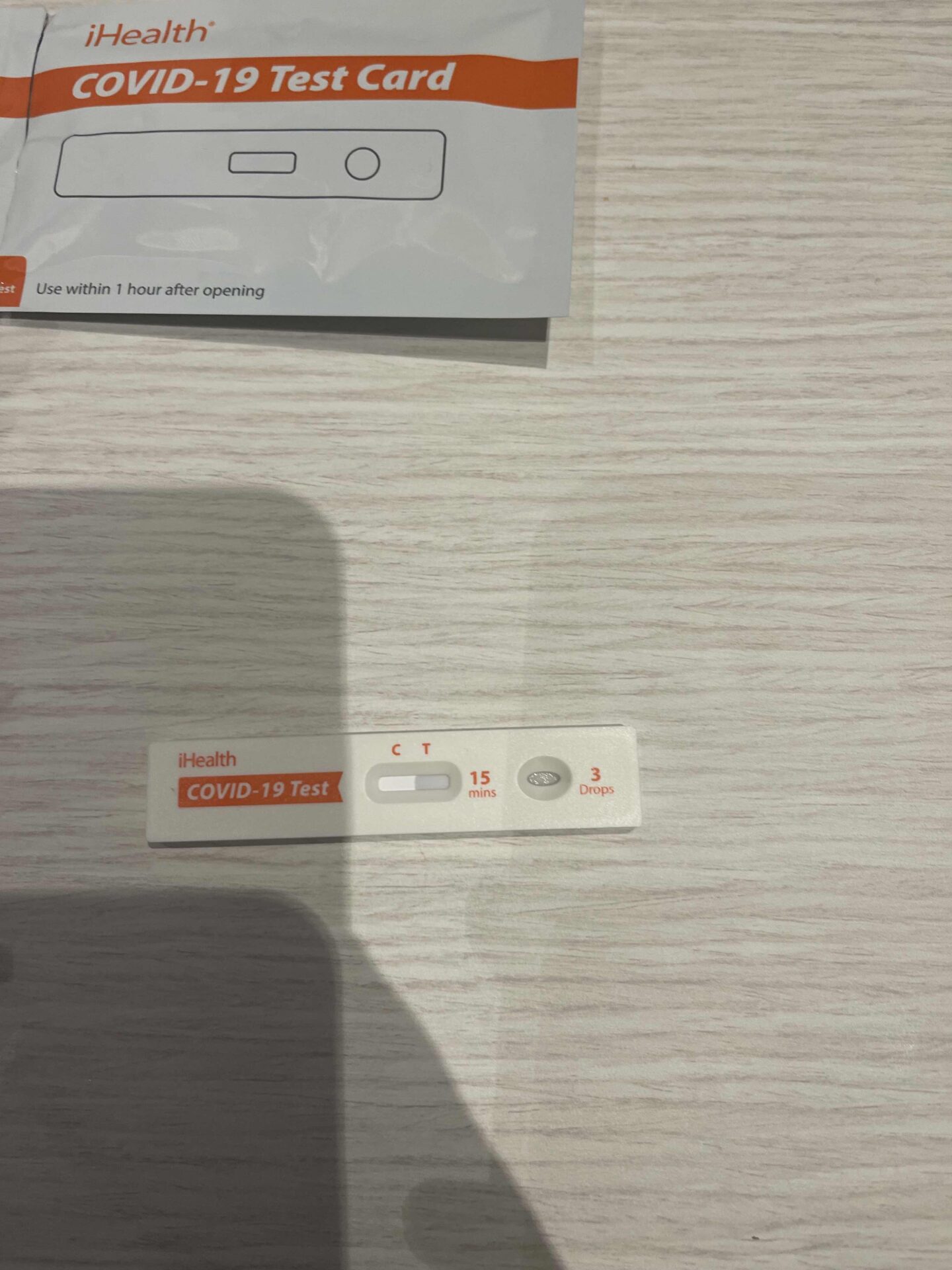 Since I had an hour before the fireside chat I went back to the lobby to hang around and see if I would run into any of the other ladies. By this point, the VIP holders had introduced themselves via email, stating where they would be and what time they planned to arrive. There were alot of VIP holders who came to the event solo. Knowing I wouldn't be the only person attending solo made me feel more at ease. While in the lobby, I met my newest homegirl, Kayla! Kayla was coming up from the elevator to get her COVID test as I was heading down to the lobby. Y'ALL!, how about I went over and introduced myself. (If you know me in real life and my quiet/shy ways that's a HUGE deal for me lol). After introducing myself, I quickly found out Kayla is a virgo as well. That's when I knew I would like her because I have yet to meet a virgo I didn't like.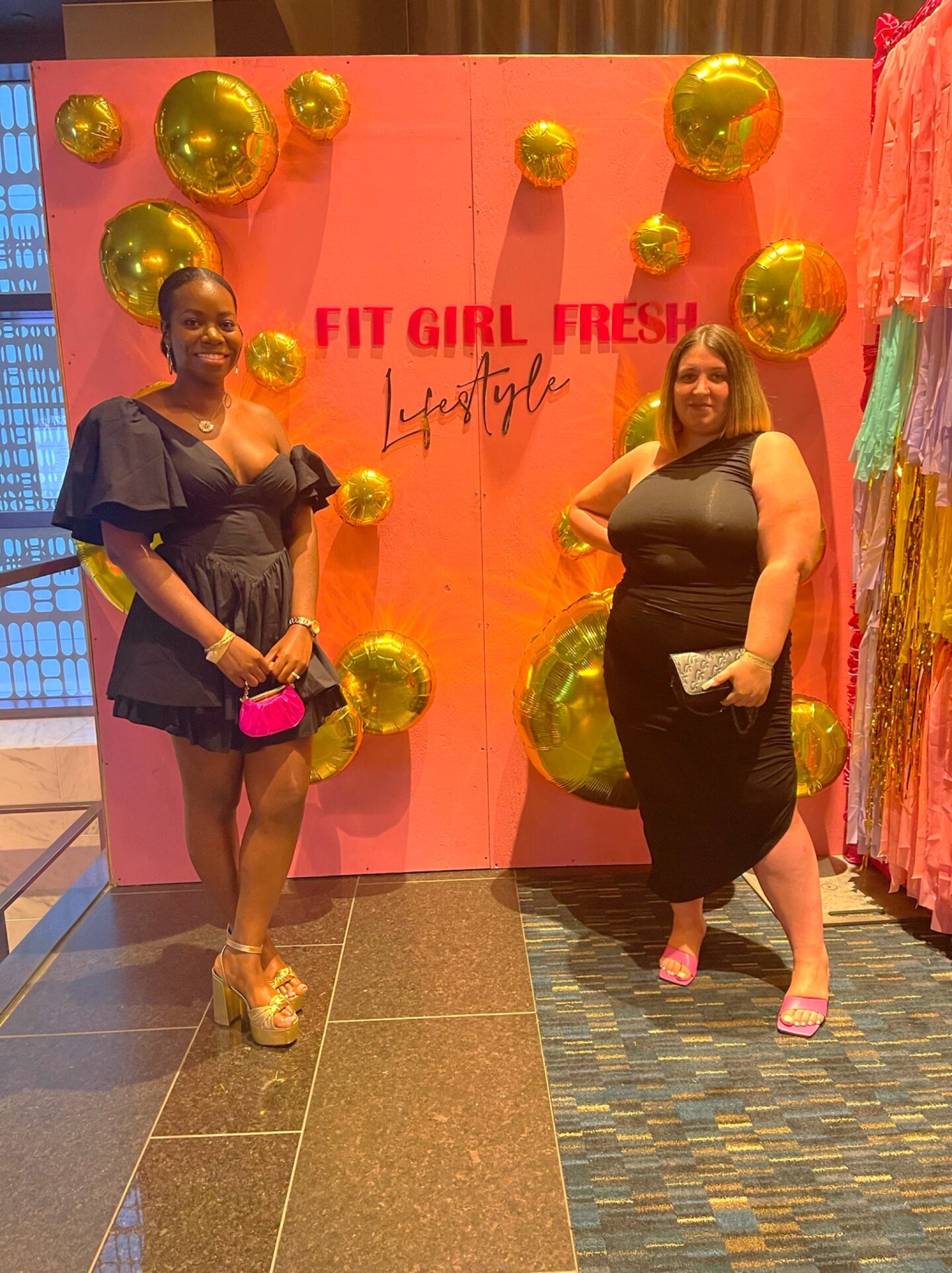 We had a TIME at the cocktail party! First, we stopped at some of the beautiful backdrops and took photos. Then we headed downstairs, greeted with pure vibes and hors d'oeuvres. There were mini vegan burgers, crab cakes, lamb, prosciutto, and of course, there were cocktails and mocktails.
About an hour into the cocktail party, Brandee Evans and Zakia Blain graced us with their presence. Both looked as beautiful as ever. It was Za's shoes for me!
That cocktail party and fireside chat set the tone for me. I knew that the weekend was going to be EPIC. Girl, I was so excited I didn't get a good night's sleep. However, ya girl made it to that 9am workout on time.
Dawn Archer dang near killed us (or was it just me?) lol my legs didn't feel normal again until about Wednesday. I was going hard because I hadn't worked out in a week or so and her playlist was fire. It made you want to move your body. When the dancehall came on it was OVA! I was doing more dancing than working out. lol
Viva also had us working OKAY!! A whole twerk session. That was just too explicit to record. Shall we say, too hot for TV lol
Next up was the School of Life Workshop.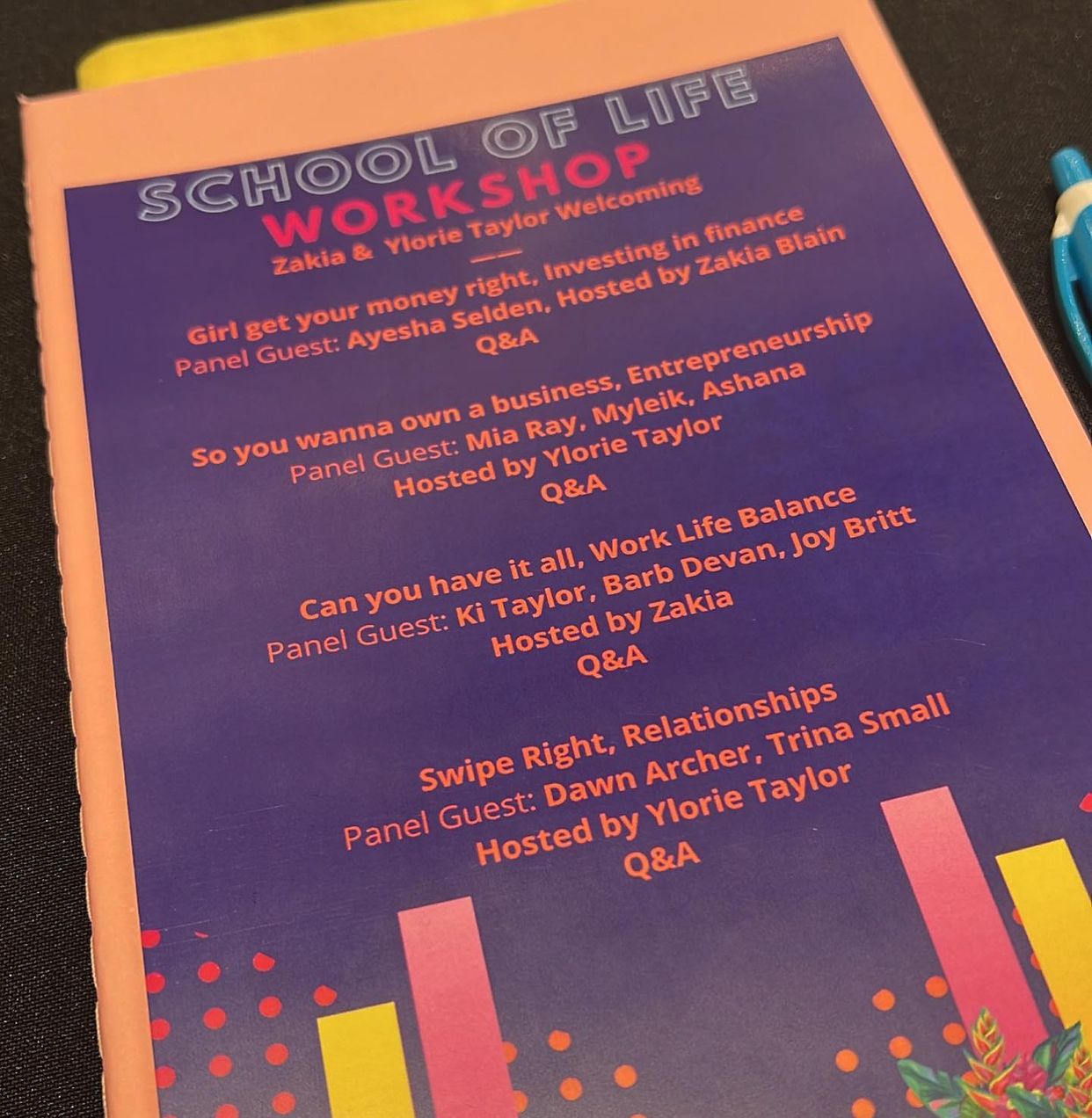 Unfortunately, I missed some of Ayesha Selden's presentation because I had to rethink my look for this event because the original wasn't given, honey. Between that and the traffic, I was about 15 mins late. Hence, my personal motto for the event, "Change clothes and go." I also did not take much video and photo footage because I was living in the moment. I KNEW that there would be many lessons learned and gems dropped during this workshop, so I took notes and was present.
So after the workshop…(clears throat…then screams) this HAPPENEDDDDD…the Meet & Greet!!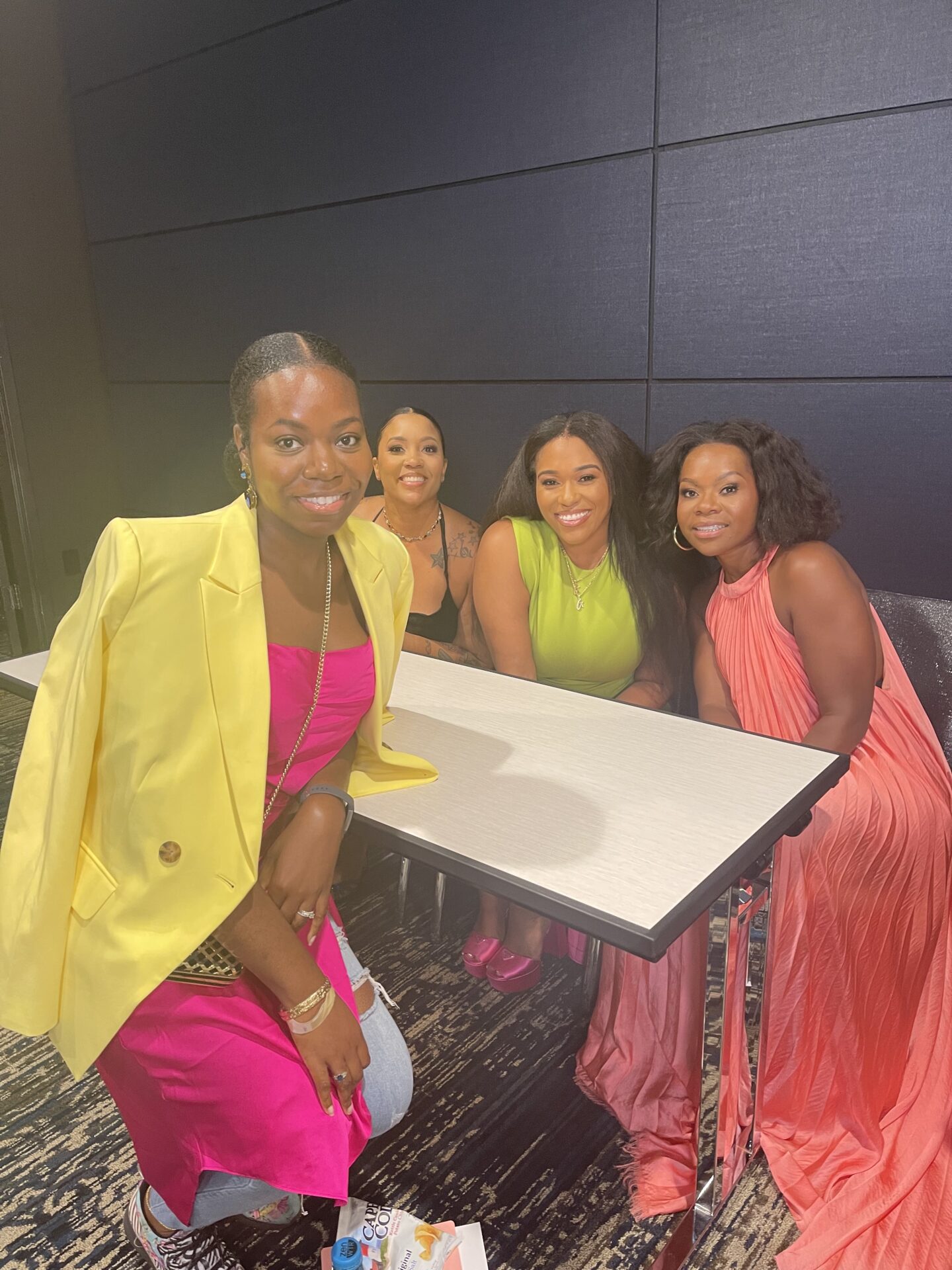 I FINALLY got to meet the ladies, Zakia, Mia Ray, and Myleik whom I have been following, admiring, and learning from afar for YEARS. I was having a fan girl moment, I played it cool but on the inside, I was like "OMG, IS THIS REALLY HAPPENING, LIKE RIGHT NOW?!?" lol. Earlier that day as Myleik walked off the stage from the panel, she said my outfit was cute. That made me being a tad bit late worth it lol And to think my husband, Rich, said, "I don't know. You got alot going on." when I asked him how my outfit looked. He knows I do the absolute most. lol
While at the meet and greet Myleik, said I looked familiar and asked me my name. Mia also said my sunglasses were cute. (Yeah, I'm fan girling again lol) I was so happy. When I tell you my ENTIRE summer was made just from that quick interaction. I'm still in awe that I was in the room with these women for a whole weekend.
I didn't get to formally introduce myself to Za and talk to her as I would've liked because as the host she was BUSY. I didn't want to "bother" her. The Monday following the event Myleik had a pro tip about this same notion of "bothering" people at events. It was so profound that it made me regret not at least attempting to introduce myself to Zakia. This is one of the many reasons why I admire Myleik. She is so knowledgable, a forever student, like myself. Myleik's podcast has gotten me through many rough days when I was working as a HIM Director.
Lastly, we had the Snatched Soiree which was all that. Again, as everything, the food and decor were a vibe. Crystal Bailey and her team were so professional. Renee of Be Bougie Events LLC, specifically, displayed top-tier customer service with every interaction we had. As I previously mentioned, I was late for the workshop, thus my seat had to be moved because it was directly in front of the camera. Renee was so accommodating and respectful in her approach. If you know me in real life, then you know I am VERY big on customer service and will pay extra, if necessary to have quality customer service. That is exactly what all of Zakia's staff and team provided, quality customer service. I mean, Za said it was going to be a luxury experience and that it was.
Zakia honored her friends by giving them awards, which was so thoughtful. We ate, drank, and danced the night away. Ty Alexander, the DJ, was awesome, she even played some dancehall. I was like, okay, I see you.
At the Snatched Soiree, I had the opportunity to personally thank Myleik and Mia Ray for how much they have motivated and inspired me over the years. That was one of my goals of the event, to meet them and express my gratitude and make genuine connections. I'm so happy I was able to do both. The introvert and overthinking Virgo in me is so proud. Oh yeah, I forgot to mention that I made it to Myleik's feed (squeals). That's me, fourth slide, baby! And Mia said my dress was cute and asked where I got it. lol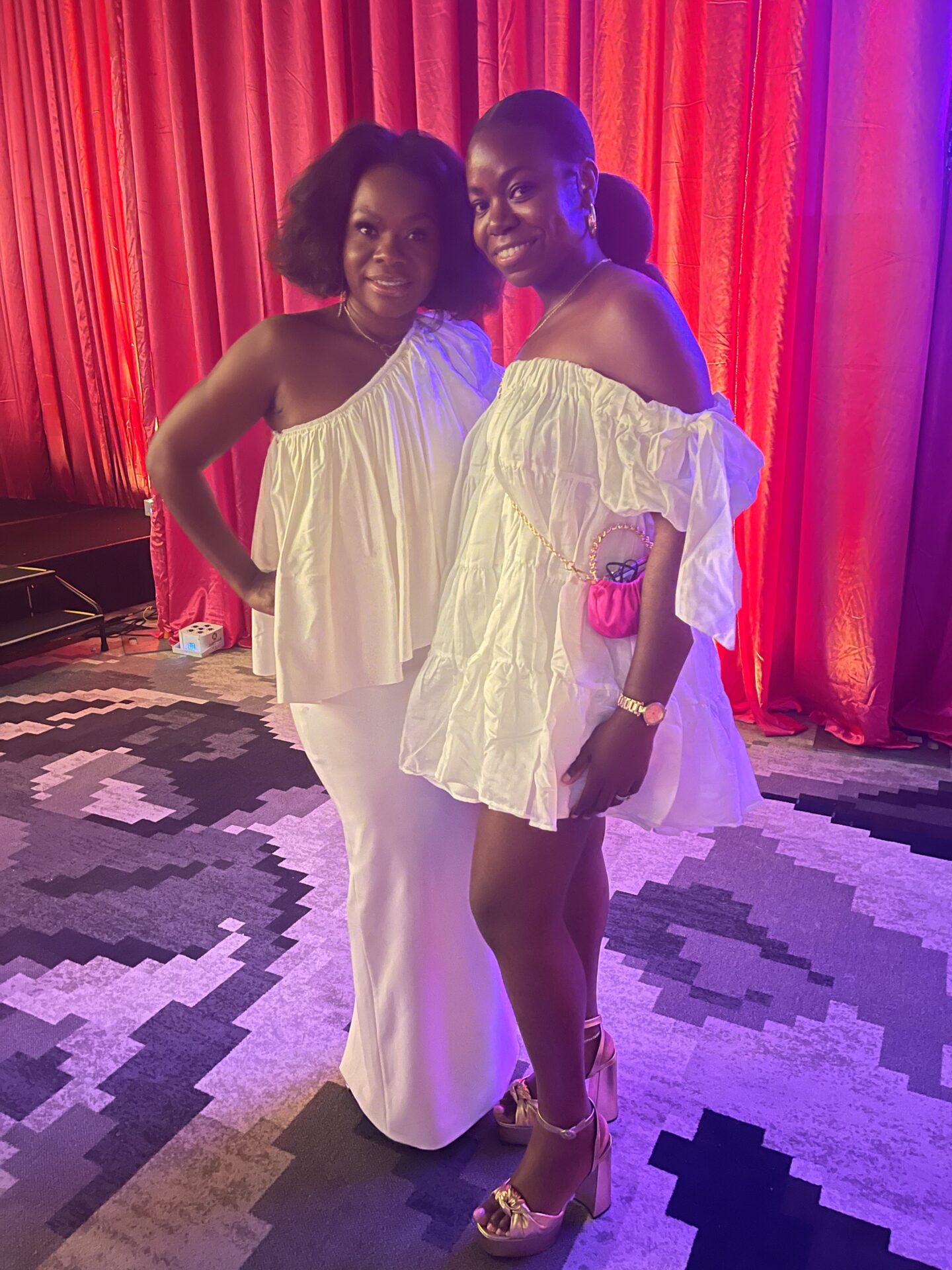 On the last and final day, there was a farewell pool party for VIPs. It was a beautiful day. By this time y'all my social battery was on E and I was tired…OKAY! I hadn't taken a nap in 3 days and I'm the Nap Queen…lol All in all, the weekend was UNFORGETTABLE!
10 Lessons Learned
Be confident. Be who you are ALWAYS.
"Something powerful happens when a black woman decides." – Ayesha Selden Decide who and what you want to become and pursue that relentlessly. Don't worry about what anyone has to say or do. That is not your concern.
"What you see in front of you is not always against you." – Mia Ray As an entrepreneur you have to be able to pivot.
Make a savings specifically for your trademark, website etc. Anything you need to build your business.
There is an audience for EVERY person. Be yourself. You don't have to be perfect. Whatever is trending at the time, just roll with it.
Be authentic. Don't try too hard.
Have some form of passive income so you can make money in your sleep.
"Everybody wants to be understood but forgets to be understanding." – Kee Taylor. Show others grace because you never know what people are going through.
Connect with people who want to love on you.
*Bonus* Post more on social media and use it as a tool. You never know what can happen until you try.
Did you attend FGF Weekend? If so, what did you learn or takeaway from this luxurious event?
If you did not attend, would you in the future?
P.S. Always remember, it's You vs You!