It was March 14, 2013, I was off from work because I was going to Rihanna's concert with my Baby Cakes (aka now husbae). Not knowing that by the end of that night, I would go from girlfriend to fiancé. The day was a whirlwind of excitement and happiness from beginning to end.
I woke up early that Thursday morning to get the remaining pieces I needed to complete my "Rihanna-esq" outfit. I texted my best friend, Lyse, at 9:09am that morning to find out which side of the mall was closest to DSW. It was then, she damn near gave me a heart attack. Asking me, "Did you hear about the concert?…I heard that RiRi has the flu and has cancelled her last two concerts. Is it still on for tonight?" I instantaneously replied "Wait. What!?!" My bestie continued to tell me how Rihanna cancelled her last two concerts in Boston. I immediately got my ticket and looked for the Wells Fargo phone number, to my surprise, it was not listed on the back of the ticket as I had thought.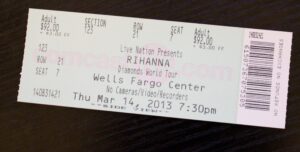 So I immediately grabbed my iPhone and called Free Info for the number. I called Wells Fargo Center and their pre-recorded prompts told me to call Comcast tickets. I hung up abruptly and called Comcast tickets to hear that the Rihanna concert was still on and there were no changes to the event. Whew…I let out a BIG sigh of relief and texted Lyse, "Well I just called and she's still performing, no changes to the event. Thank God! You almost gave me a heart attack." If you know me in real life then you know I LOVES me some Rihanna. Ever since she became good girl gone bad, I was all in! I continued my day as planned. I headed over to King of Prussia Mall where I purchased 2 pairs of shoes from DSW, a jean jacket, 2 pairs of earrings and a necklace from Forever21.
FAST FORWARD
I arrived home around 1:30pm. I called Baby Cakes to let him know that I was home and he can come over whenever he was ready. In the meantime, I took a shower and got something to eat. I wanted to take a 30 minute nap; however, I was too excited, not only was I going to see Rihanna but I was going to have my face beat by the one and only Tatiana Ward (aka BeatFaceHoney). YES!!! The same girl who beat Brandy's face exactly 2 weeks prior! I was ELATED! After reading her story and seeing how she knew that God had BIG plans for her I became overwhelmed with inspiration. It was at 3:22pm when Tatiana texted me, "Hey Honey! Just wondering if you'd mind terribly if I pushed you back a half hour to 5:30pm? Please don't mind saying no if you can't!" I honestly did not care whether she pushed me back 30 or 40 mins, all I wanted to know was should I come dressed. Because I knew that 2 things were about to happen I was going to get my face beat by the same pretty girl who did Brandy's face and that I was going to see Rihanna that night and to ME that's all that mattered. I quickly responded to Tati, "No that's fine, about how long will it take? Just wondering if I should come dressed or if I'll have time to go home and change." Tati promptly replied, "Come dressed. It'll take about an hour. If it's too much, just come at 5:00pm." I responded, "Ok, is it your house? My bf is going to the concert with me. Do you mind if he comes? And from there we'll leave to the concert." Tati responded, "Yup! He's welcome!"
Rich finally arrived. Prior to his arrival he stopped at Burger King where he called and asked what I wanted. Grant it, I wasn't that hungry because I had just finished eating; however, I couldn't resist a cinnabon. With that thought in mind I told him I wanted 2 cinnabons. As soon as Rich came in, he took off his shoes and coat and gave me my cinnabons. But to my surprise they were chicken fingers. I looked at the chicken fingers and said, "This ain't no cinnabon." He replied, "It's not. I didn't check it. I just saw the box and thought it was a cinnabon." I gave him the chicken fingers and said, "Isn't this the same Burger King that you and your sister went to before the Brandy concert and they gave y'all the wrong thing. Why didn't you think to check it? I always tell you, you need to check it." He now, checks it ladies (round of applause lol…he knows I love my belly aka food and we don't want no problems)! Meanwhile, he is just staring at me the whole time, as if he has something up his sleeve. I'm looking at him like what?!? Not knowing that he was about to give me the gift of a lifetime.
FAST FORWARD
Rich and I are exiting the car to go inside Tati's house. Rich is a little apprehensive at first because we don't "know" Tati. I said to him, "Are you OK, babe?" He replies, "Yeah, I just feel a lil weird going into somebody's house that I don't know." I said, "Well at least you're here to protect me just in case something weird happens." In my heart, I knew nothing bad was going to happen, just from texting Tati the day before I knew she had a beautiful and humble spirit. I only said that to put him at ease and make him feel more like a man..lol. I was so excited you couldn't tell me anything to deter Beat Face Honey from doing my face. So, we finally entered Tati's door, I could hear Brandy blasting from the inside of the house. I knocked, but due to the volume of the music she couldn't hear it. So, I scrolled through my contacts and called her. As soon as she opened the door she shook my hand and said I looked cute! She then shook Rich's hand and introduced herself as Tatiana. I felt so star struck, Tatiana is so pretty. She has those pretty eyes and beautiful skin. Everybody who knows me, knows that I am not much of a talker but with Tati, it just felt different. She has that personality that makes you feel like you've known her for years. I anxiously sat in her chair while she got all her products and brushes out. She and Wade Lee complimented me on how cute my outfit was.

My heart was just smiling on the inside. Tati asked me what look I was going for and I showed her a pic of Go Go Morrow from her concert with Brandy. In the picture she wore a leather peplem with a black smokey eye and pink lips and pink blush. I loved the contrast between the smokey eye and the pink hues. I think it really softened up the leather. As I told my bestie a few nights prior the look I was going for was rocker meets girl and I think that look would've accomplished just that. Tati quickly replied, "Oh that's easy, but anything could be going on behind the eyes. In the pic she has her eyes open, so anything could be going on." I replied, "Well, do whatever you think will look right. I don't really wear makeup everyday like that. So, do what you think is best." In my head I was thinking if Brandy can trust her to do her face without any guidance then me, a NON-celebrity, can most certainly do the same. With that thought in mind Tati began to work her magic! Well, beat my face..lol. Tati and I talked and she shared her experience about working for Brandy. I don't even remember how we got on the subject but for some reason, I told her that 4 years ago I took Rich to a Maxwell concert because he likes Maxwell. Tati looked at me and said, "4 years!?! How long y'all been together." I replied, "4 years. In July, it'll be 5." Tati then turned to Rich and said, "Boy! You betta marry that gal! Next time I see you, ya better be in a tux!" It was that day, that Tati would be the last person to utter those very words that Rich would often hear from EVERY person we encountered, "So when y'all gon get married?" Little to my knowledge, I would be sending Tati a text at 11:42pm with a pic of my engagement ring.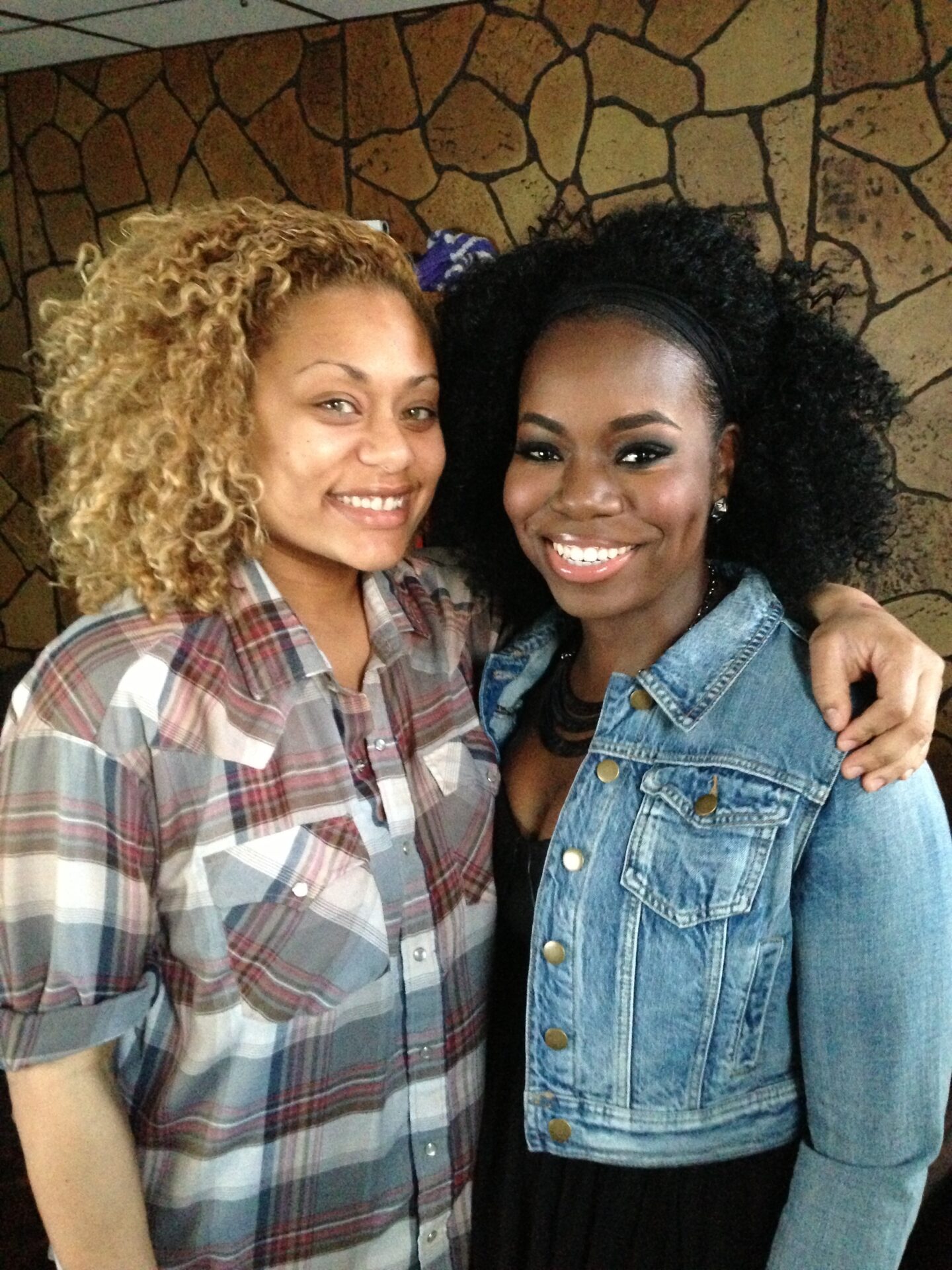 Tati has beaten my face all the way down and I look B-E-A-beautiful. As I am driving to the Wells Fargo Center I just couldn't stop smiling and laughing. I felt truly blessed to know that I wished for Tati to do my makeup and it came true. I was now about to see my all-time favorite female artist. I didn't want the excitement to end. As we entered the Wells Fargo Center a gentleman stops and asks us to fill out an application to win a free car. Rich immediately tells the man, "No, no thank you." The gentleman then says, "Please, it's for my job." Being the people that we are, Rich and I felt empathy for the man, so we each filled one out. As we were handing the papers and pens to the man he asks if we're single or married. Rich immediately says, "SINGLE". I immediately said, "DATING!" And looked at Rich and said, "We're not single. Why are you so quick to say we're single?" Rich replied, "Well, he asked single or married and we're not married." In my head I thought well damn, we've been dating for 4 years and he's so quick to say single. I hope I'm not wasting my time here. Little did I know that was said to throw me off.
FAST FORWARD
So, the concert is over and I'm still on a high from seeing Rihanna perform. As we walk back to the car to the onset of freezing wind, Rich asks, "Do you want to go somewhere?" I asked, "What do you mean, like to a bar or something?" Because last time I checked it was 11:24pm on a Thursday night and I didn't think anything other than that would be open. Rich responded, "I don't know". I said, "I'm not sure babe because my feet are killing me and I have to work in the morning." He replied, "True." So, we finally get to the car Rich opens the car door for me and I slide in. My feet are killing me at this point. Luckily, I wore my flats to Tati's so they were still in the car. Rich held the box with the flats as I took off my shoes and replaced them with my leopard heels. At this point, I am sitting in the car waiting for it to warm up as existing cars around me are making their way out of the parking lot, some cars are driving a little too close for my comfort. Just as I am about to pull off Rich says, "Hold on a minute, babe." I said, "OK." In my head, I'm thinking he's coming out to look at the car to see if someone hit it because the last car that drove pass was pretty close. But to my misunderstanding, Rich comes out the car and comes over to my side and opens the car down. He then asks, "So, you like that last Rihanna song, Diamonds?" I replied, "Uh, yesssss." I'm thinking in my head like yeah isn't it obvious, you know I love her. He then gets down on one knee and asks, "Melisa Mairs, will you marry me?" To this day, he says he said some other things before he actually popped the question, but in that moment it was all a blur to me. Shock took over me and I began to laugh hysterically and bang on the steering wheel repeatedly saying, "Are you serious, is this for real?" I kept laughing and asking are you serious for what felt like 5 mins but was probably about 2. Rich finally said, "Yeah, I'm serious I got the ring". I replied, "Yes babe!" As I continued to laugh and smile. I got up and said, "Babe, give me a hug and a kiss".
It was that night, 7 years ago today, that I became the happiest girl in the world.
I then did what every girl of this social media era does, I took LOTS of pics and sent them to all of my loved ones and friends informing them that I was engaged. 3/14/13 is a night I will never forget. It was the beginning of a remarkable chapter in my life.
We got married after being together for 7 years in the 7 month. Can you say lucky #7 or lucky in love?!? AND I saw a ladybug today, God is showing me signs!
7 things I learned in my transition from girlfriend to fiancé
Take in all the "fiancé" excitement because you have the rest of your life to be a wife.
Random strangers will wish you well and genuinely mean it.
The "glow" from your internal happiness will shine through – I had random women come up to me and tell me I was glowing.
Not everyone will share in your joy and that is okay.
Learn how to communicate better and have meaningful conversations about your future life together.
You will learn who are your real friends.
Above all else – You have to keep God at the center because people will try to disturb your happiness.
Leave a comment below if you believe in love. Are you married? What did you learn during your engagement?